The Mega8 DotA2 Winter Cup
A Swiss not-Swiss Winter Is Coming
Earlier this month (13 – 14 May 2017) the Mega8 DotA2 Winter Cup qualifiers kicked off. Over a two day period we saw 16 teams competing in the Swiss style qualifier tournament format. Teams would play up to a maximum of five Best of 1 (Bo1) matchups, in the hopes of securing one of the top eight seeds to the main event. In order to secure one of these seeds, you only had to win three out of your five matches. If you did this, you automatically qualified. The catch? If you lose three of your five matches, you're automatically out of the running. Qualifying teams thus had scores of 3 – 0, 3 – 1, or 3 – 2.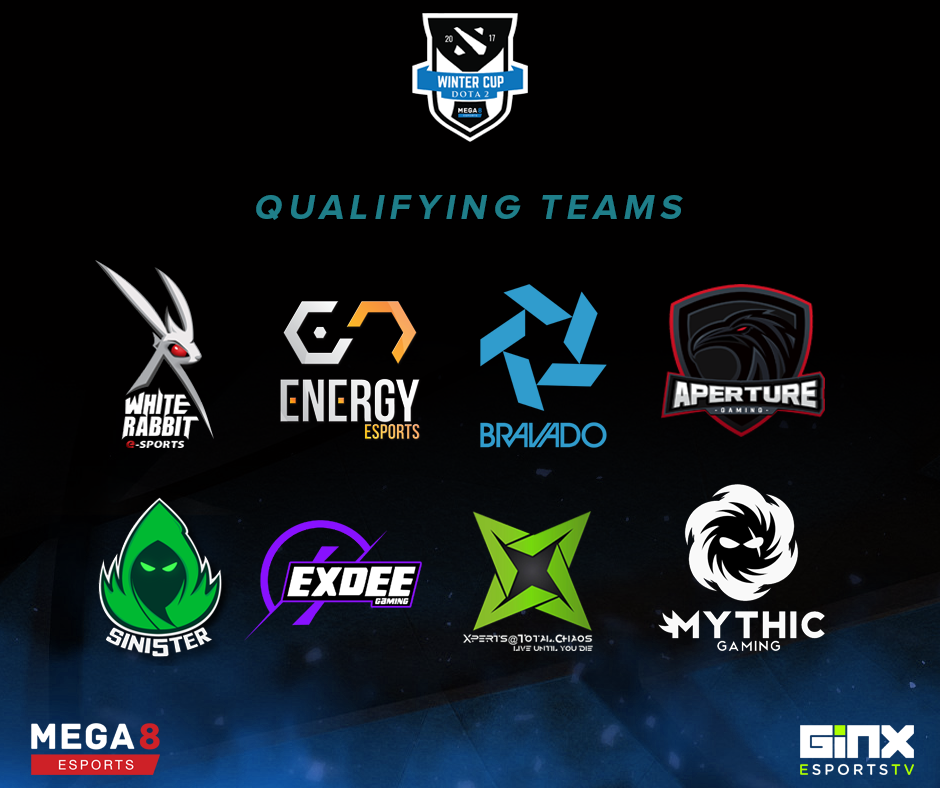 From Swiss Trials to Winter Wonderland
The 16 competing teams were cut down to the follow 8 qualifying teams:
White Rabbit Gaming (

3 – 0

)

Energy eSports (

3 – 0

)

Bravado Gaming (

3 – 1

)

Aperture Gaming (

3 – 1

)

Sinister5 (

3 – 1

)

xTc Gaming (

3 – 2

)

eXdee Gaming (

3 – 2

)

Mythic Gaming (

3 – 2

)
It's important to note that patch 7.06 landed shortly after this qualifier weekend took place, so a lot of the results here might look very different in the upcoming main event this weekend. In particular a lot of the drafts we saw during the qualifiers may look very different. Having said that, there are still a few encounters worth mentioning from the qualifiers. These may help give you an idea what to expect going into the main event this weekend.
Qualification Results Roundup
The two most dominant teams coming out of the qualifiers are undoubtedly White Rabbit Gaming (WRG) and Energy eSports (eN). Both managed a clean sweep of opening victories, securing their spots in the main event on Day 1 of the qualifiers (3 – 0). WRG dished out comprehensive beatings to Pulse Gaming (PLT), Ventus Gaming (Ventus), and eXdee Gaming (xD). eN likewise earned qualification by beating Mythic Gaming (Mythic), Aperture Gaming (ApG), and xTc Gaming (xTc).
Bravado Gaming (bvd), ApG, and Sinister5 (Sin5) wrapped up their spots early on Day 2 of the qualifiers (3 – 1). Of particular interest here is that bvd beat both xTc and Sin5, but dropped a match to ApG. Sin5 beat Ventus, PLT, and 322 420 to advance (some fortuitous draws here). ApG also recorded a victory against xD en route to qualification.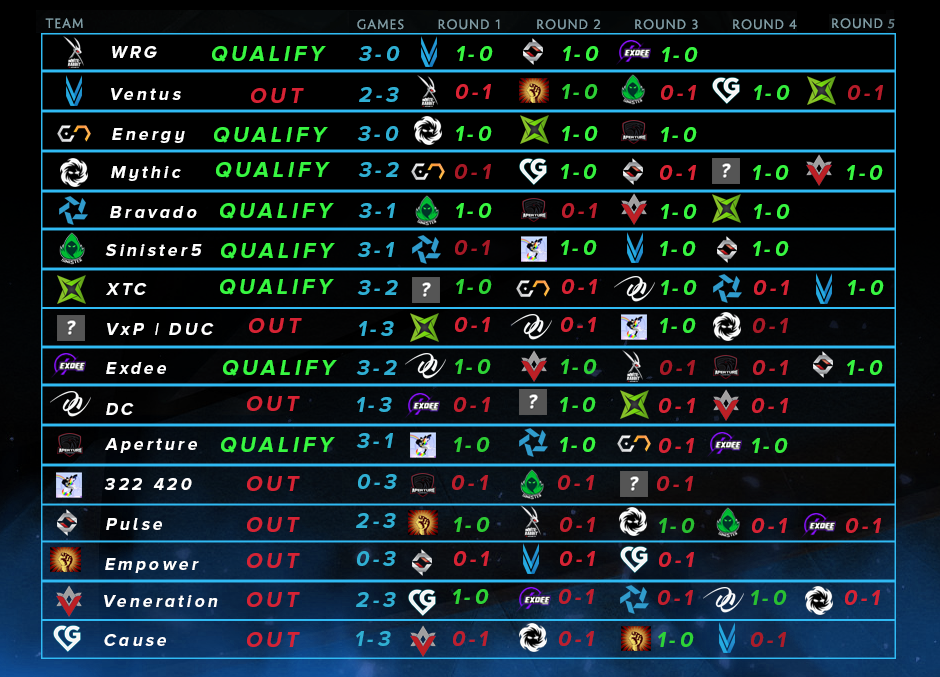 The final three teams to qualify (requiring all 5 games in order to do so) are xTc, xD, and Mythic (3 – 2). xTc were extremely unlucky to draw both eN and bvd (losing to both), but managed to pick up victories against Ventus and Damage Control (DC) to ensure qualification. xD had one of the toughest draws of any qualifying team, losing to WRG and ApG. They picked up victories against DC, PLT, and Veneration Esports (VNR) to ensure qualification. The last team to narrowly qualify were Mythic, who ended Day 1 on 1 – 2 and had to win both games on Day 2 in order to qualify. Mythic dropped games to eN and PLT, but managed to right the ship to chilly waters by beating Cause Gaming, DUC, and VNR.
In our recent Mega8 Winter Cup Preview we had 6 of these teams in our 8 predicted qualifying teams. VNR and PLT also made that list, but failed to qualify. They're replaced by Sin5 and xD, both strong looking teams who put in really solid performances in the qualifiers.
The Winter Cup DotA2 Extravaganza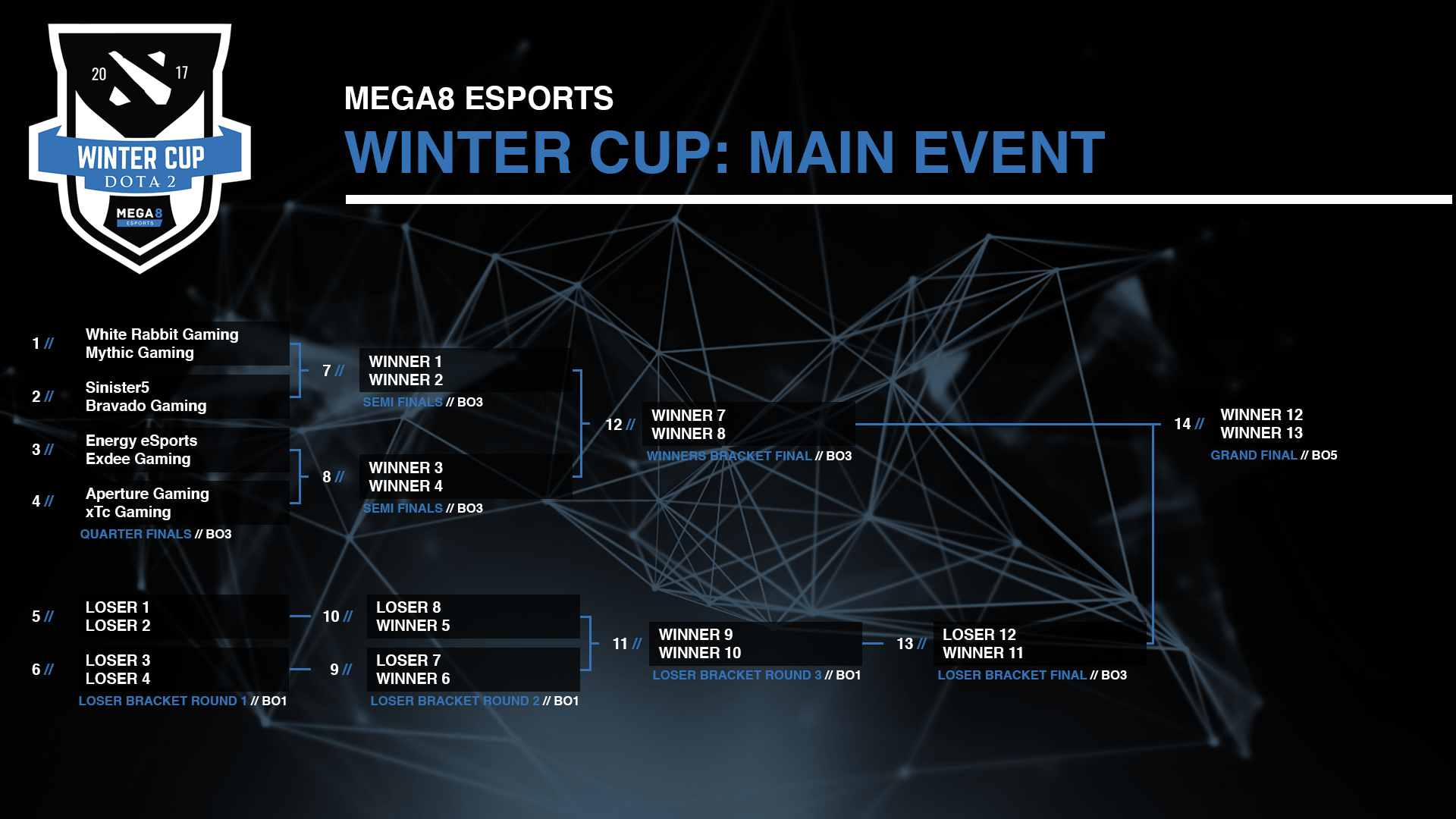 The Mega8 Winter Cup Main Event starts later today (Friday 26 May) and runs throughout the weekend, culminating in the Grand Final taking place on Sunday (28 May). The tournament format is the standard double elimination and not the single elimination we saw at the Swiss styled Kiev DotA2 Major recently. This is a little unusual, but will probably be met with relief by teams facing off against WRG at the very start of the tournament. You can catch all the action on the Mega8 Main YouTube Channel or the Mega8 Secondary YouTube Channel throughout the weekend. Mega8 also recently announced their partnership with Ginx TV (and Supersport) so matches will be streamed on there as well (Channel 240 on DSTV Now). 
Chris
"@SargonDotA2"
House